Looking for day trips from Warsaw? You have plenty to choose from. Whether you have one extra day or a few to spare, it is highly recommended that you get out of the capital city. From national parks to heritage towns to lovely lakes – you can choose your Warsaw day trips as you prefer.
If you are a solo traveler worried about spending a lot on day trips, don't worry, because most of these can be done on your own, with a bit of planning! Okay, so go ahead and check out these awesome day trips from Warsaw.
Day Trips From Warsaw
1. Head to the birthplace of Chopin, Zelazowa
The birthplace of the renowned Polish music composer Chopin, Zelazowa is an easy place to add to your list of day trips from Warsaw. This scenic town is known for the unique landscapes of Masovian region dotted with beautiful valleys amidst hills, winding roads and gorgeous streams.
You can reach the town through buses, and spend the day exploring his childhood house, now a mini-museum, which also includes a pretty garden. Apart from this, Zelazowa is a place to relax simply and enjoy the landscapes.
Museum timings: 9 AM to 7 PM. Closed on Mondays.
Entry fees: 23 PLN for adults(covers Museum & the park). The entry to the museum is free on Wednesdays.
How to get to Zelazowa: You can reach from Warsaw to Zelazowa by train. There is a train every hour from Warsaw central station to Sochaczew. From there, you can take a cab.
The total journey costs about € 15. Or you can take a train from Warsaw to Piasecznica station, and then take a taxi to Zelazowa, which is about 10km away.
Recommended guided tours – If you are looking for a private tour, there is this half-day private tour to Zelazowa from Warsaw, which is perfect if you have a very short time or will be leaving Warsaw the same day or traveling further.
Or even better, you can opt for this combo tour that includes a visit to Zelazowa and also Masovian country – This trip includes lunch, pick up and drop from hotel, and also free cancellation up to 24 hours. This is the best value-for-money-and-time tour for you.
2. Explore the mammoth Malbork Castle
Malbork Castle is the largest castle in the world in terms of area. Entirely built by bricks, it is also the most massive brick structure in the world. This 13th-century castle belonged to Teutonic times and was majorly devastated in WW II bombing.
It was reconstructed later to what it is the present day. There are three different levels, and it takes half a day to explore the castle and another 2 to 3 hours in traveling to and from Gdansk.
It's closer to Gdansk, which is a beautiful coastal town with so many things.
How to get to Malbork Castle: You can travel by yourself from Warsaw to Gdansk by train and then from Gdansk to Malbork Castle by train again. There are three types of trains at different prices. Go to the station a day before or just when you decide to get the tickets directly.
Read my post to find out more details of making a day trip to Malbork Castle from Gdansk here.
Malbork Castle timings: 9 AM to 7 PM every day.
Malbork Castle entry fees: 39.50 PLN in summer and 21.50 PLN in winter. Tuesday free entry(to selected areas) after 2 PM.
If you are looking for a tour, then I would recommend this Castle of the Teutonic Order in Malbork Full-Day Tour. It starts from Warsaw, where you will be picked up from your hotel(with no additional charge), and includes entry tickets to the castle, guided tours in English, German & Russian(if you are visiting in July) or audio guides during the other months, and lunch in the Original Gothic Restaurant within the castle.
If you are traveling solo, IMO this is the best way to enjoy Malbork.
This another combo tour is even better if you are keen on exploring Gdansk or Sopot towns as well. This day trip to Malbork Castle and Gdansk or Sopot starts from Warsaw.
It includes entry tickets, hotel pickup and you can choose Gdansk or seaside Sopot while booking online. You can check the complete itinerary here. The guided tour is available in English.
Both these tours are free to cancel up to 24 hours, and mobile vouchers are good enough to start the trip.
How to spend 3 epic days in Warsaw – A complete Itinerary
3. Visit Auschwitz Camps & Krakow City
Ideally, both the city of Krakow and Auschwitz need more than a day, and I would recommend keeping a few days in Krakow because there are plenty of things to do(for free!). Ideally, it is best to chalk out a few days in Krakow and take a day trip from Krakow to Auschwitz.
But if you are running short on time, there are some tours that would take you through the highlights of both.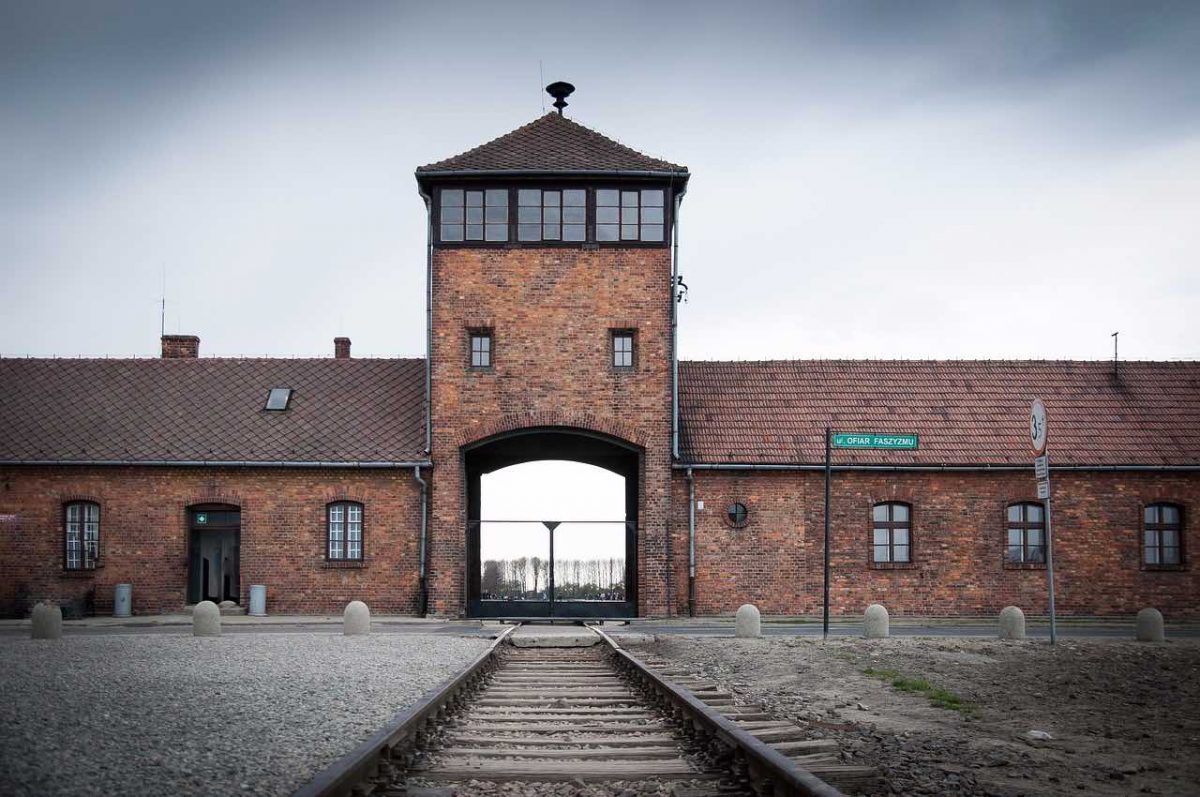 Auschwitz is the place where the most gruesome concentration camps of WW II are located. It's not a pleasant day trip to take, but history is to be known.
However, I would suggest you avoid it if traveling with young children. There are trains and buses from Auschwitz to Warsaw.
Alternatively, you could opt for any of these guided, inclusive tours. This low-cost combinational tour of Auschwitz and Krakow from Warsaw is worth if you are short and time and want to do both without digging deep in your pocket.
If you want to opt for a private combo tour, this one is good.
The Auschwitz-Birkenau Full-Day Group Tour is worth doing if you want a cheaper trip to the camp alone.
This tour is highly popular, has great reviews and gets sold out often.
Check out: 15+ Amazing Free Things to Do in Krakow
4. Check out the heritage underground Wieliczka Salt Mine
Wieliczka is a UNESCO-protected 13th-century salt mine consisting of subterranean tunnels. It is open only during the summer every year. This underground mine would take you through the deep tunnels leading to the mines and the only underground chapel in the world.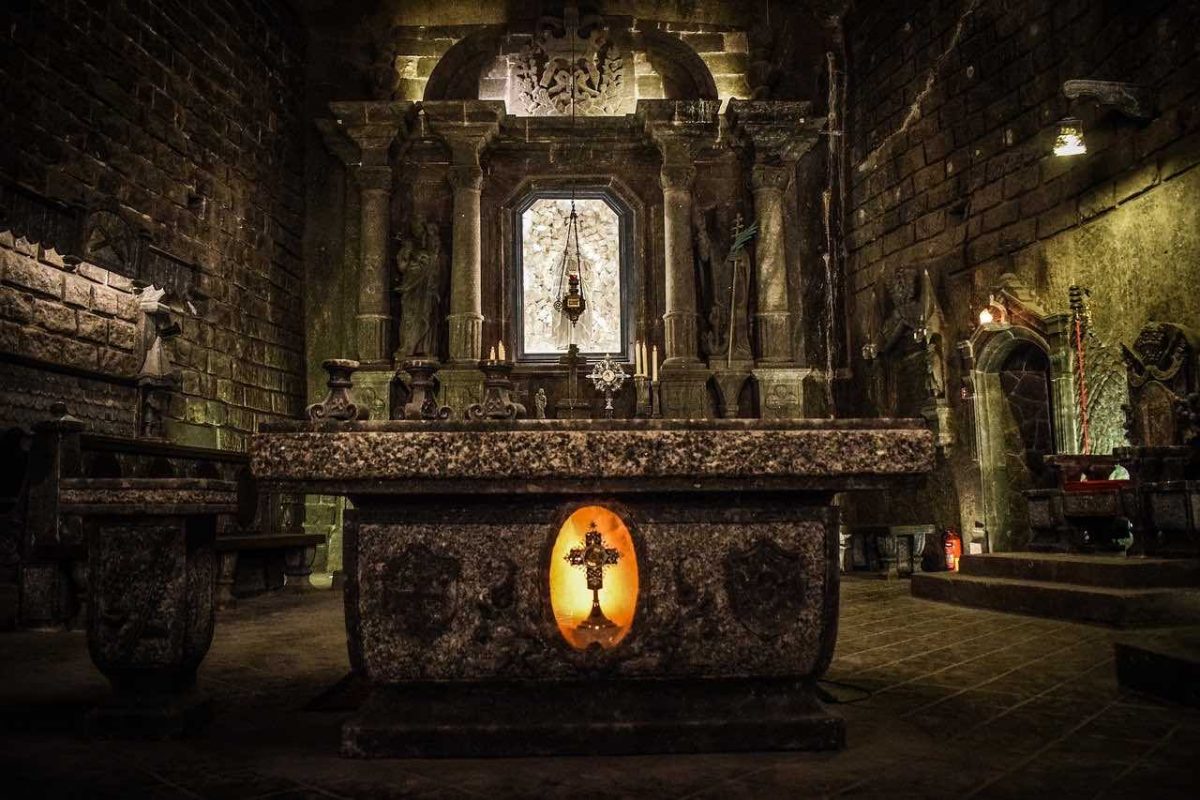 A must-visit if you are traveling in summer. Again, it's closer to Krakow, and I would recommend traveling from there if you Krakow is on your itinerary.
How to get to Wieliczka: There are no direct trains to Wieliczka Rynek-Kopalnia from Warsaw. You can go there via Krakow and then take a train. From the station, you can take a cab to the salt mine.
From Krakow, below are some of the best recommended guided tours to go for.
5.

Explore Poznan from Warsaw
Poznan itself deserved to be explored separately, but when it's not possible, you should include the city as a day trip at least.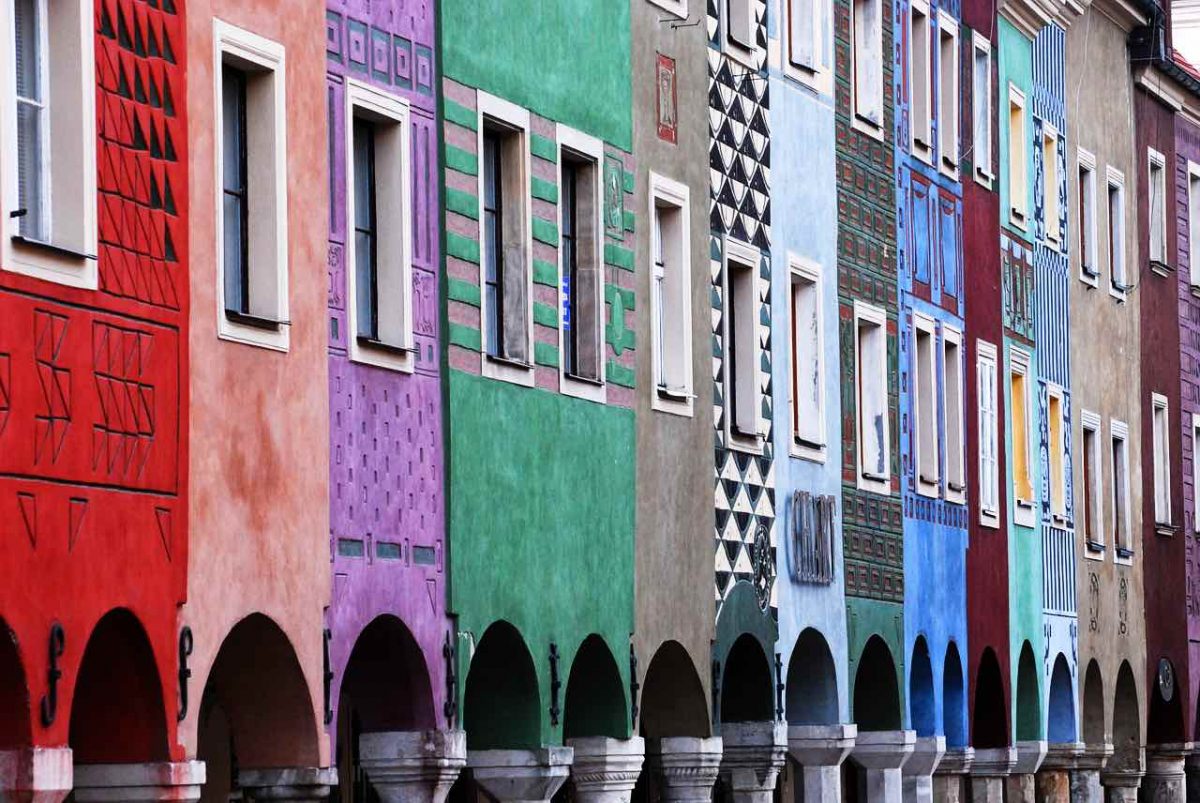 Check out the beautiful old town of Poznan, the Royal imperial route and the medieval churches. Cezar Castle is one of the best places to visit in Poznan.
This guided private walking tour would cover all the significant sights, which I recommend to make the most of your time in Poznan.
How to get to Poznan: There are direct trains from Warszawa Centralna to Poznan Glowny, taking up to 3 hours and costs €11 to €20.
Below are some of the recommended tours that you can take to explore Poznan even if you have only one day.
6. Admire Baroque Style at Wilanow Palace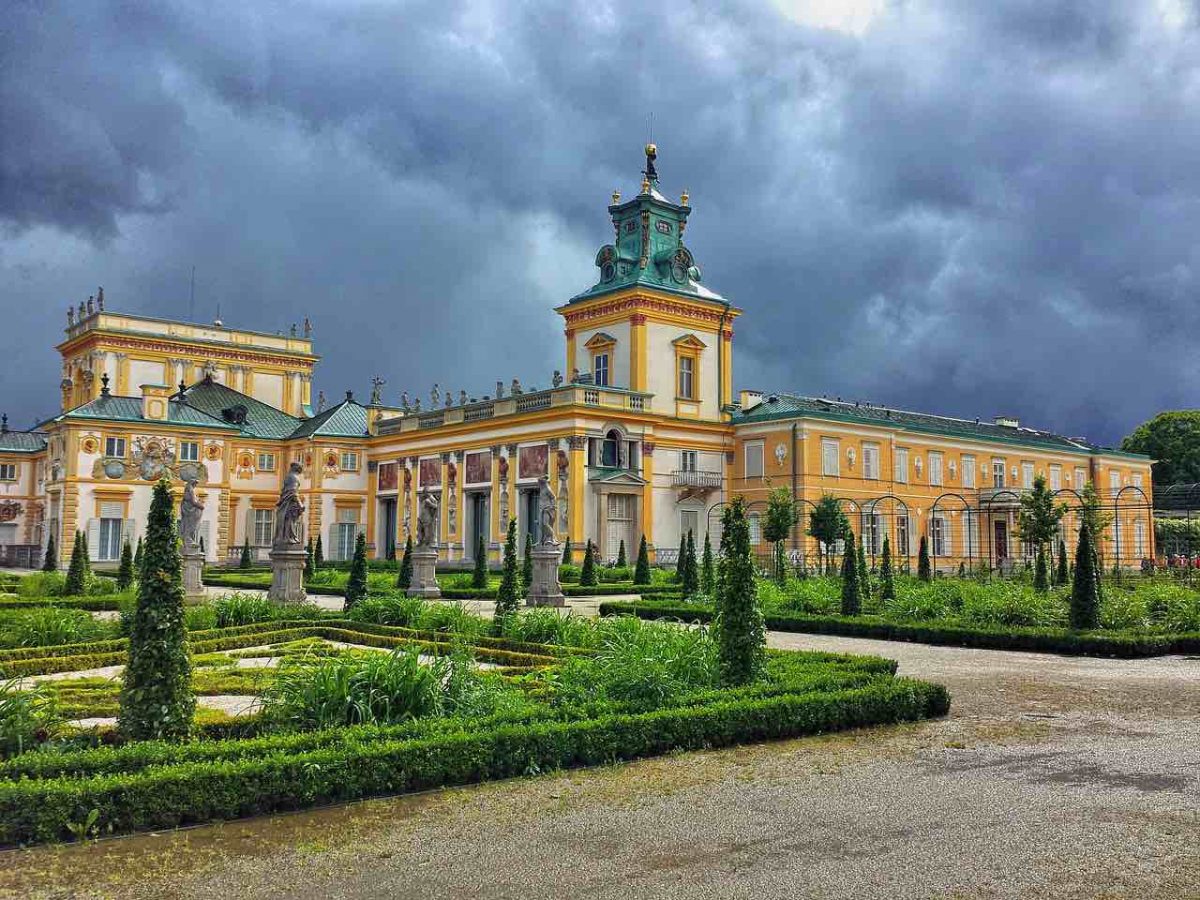 Famously known as 'The Versailles of Poland,' Wilanow Palace is a classic example of Baroque architecture. The huge well-manicured is a lovely attraction against the light-yellow coloured Palace as the backdrop, parts of which are open to visitors.
The interiors of the Palace are magnificent too, complete with royal collections.
You can take Skip the Line Wilanów Palace and Gardens Guided Tour from Warsaw, which includes transport, English guide and pickup from your hotel if you take the extended version of the tour. Easy to book and recommended if you want to travel comfortably.
If you are interested in private guided tours, check this Private Wilanow Palace & Garden Tour, which covers the entry fees, and includes guides in multiple languages.
How to reach Wilanow Palace from Warsaw: Located in the Wilanow district, you can plan a day trip to the Palace easily as there are buses from the centre. It takes about half an hour or so to reach the Palace premises.
7. Olsztynek – Masurian Lake Province
Located in Olsztynek region, the Masurian Lake District has many attractions to offer, mostly in nature. There are some tours that you can opt or plan it yourself.
The lake is the main attraction, but the surrounding Napiwodsko-Ramucka near the Lyna river, the castle at Nidzica and the museum are other things to explore.
How to reach Masurian Lake: There are regular trains from Warsaw to Olsztynek.
I would recommend this guided Canoe and Sailing Tour from Warsaw if you are keen on enjoying some water activities in the lake. The tour includes the equipment and Yacht cruise with dinner.
8. Explore the UNESCO heritage site at

Torun
Torun city is the birthplace of Copernicus and is famous for this reason. But the town is lovely with many attractions worth checking out as a day trip from Warsaw.
The Torun old town is compact and pretty, which is a part of UNESCO world heritage site. You can witness the beautiful panoramic views of Torun atop the Bell Tower.
Don't forget to try Gingerbread, a dish for which Torun is famous. There's also a museum of Gingerbread, something to check along with Copernicus Museum.
How to reach Torun: There are direct trains from Warszawa Centralna to Torun Glowny, which takes about 3 to 4 hours depending on your train and costs between €10 to €20. You can either book online or get it from the Warsaw station.
There is a full-day guided tour from Warsaw to Torun, which includes hotel pickup and transfer, traditional Polish lunch, skip the line tickets to one of the museums, and covers the historic sites in the old town.
45 Interesting & Fun Poland Facts That You didn't Know!
9. Check out

Lodz, the Manchester of Poland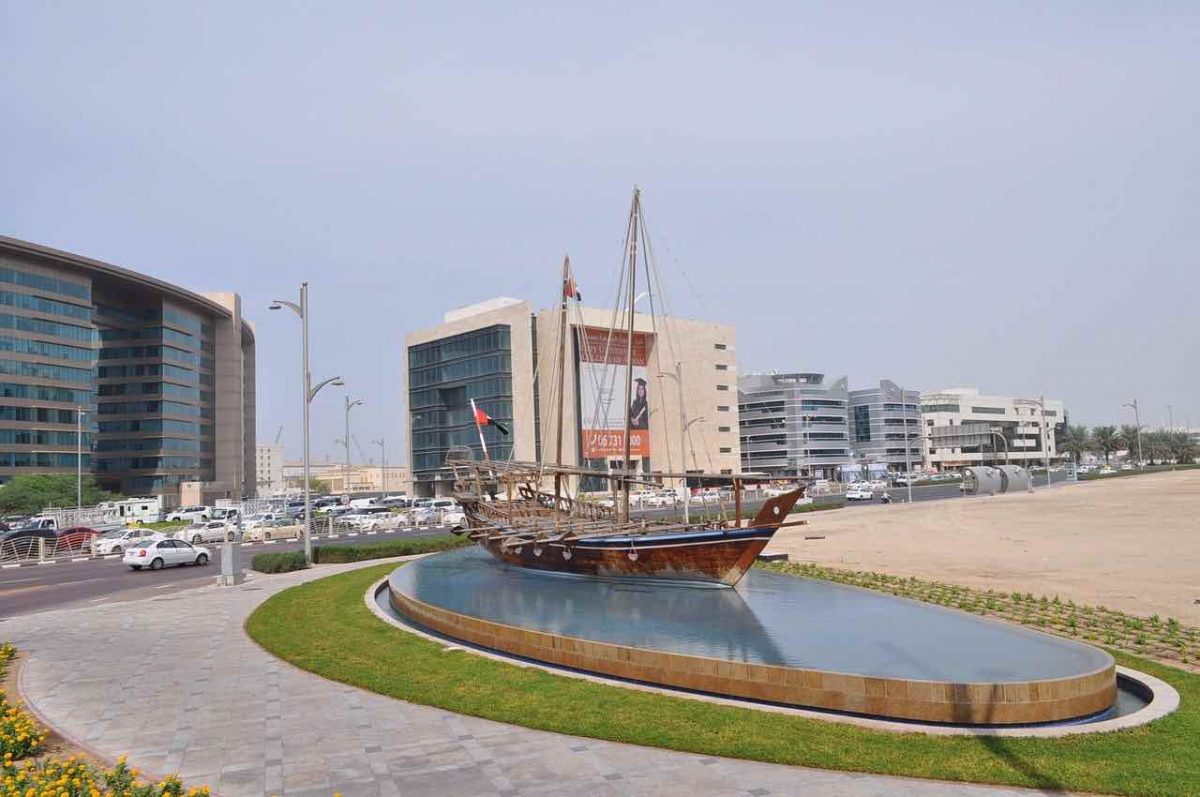 If you are looking for a non-touristy city in Poland to explore, one of them for sure is Lodz. What makes you consider as an option for one of your day trips from Warsaw is the contrast culture of the city.
Fondly called the Manchester of Poland, Lodz was one of the important trade city, and houses Piotrkowska Street, the longest European trading route. You'll find medieval industries, French-style buildings parallel to modern shopping malls.
With the historic old town area, lovely neighbourhoods with milk bars, cafes and restaurants, you can slowly spend a day checking out them. There are also some cool places for shopping.
How to reach Lodz: Trains are the best way to travel anywhere in Poland. There are direct trains from Warsaw central to Lodz Fabryczna, which takes up to 2 hours and costs from €4 to €6.
There is a full-day guided tour from Warsaw to Lodz, which includes pickup from your hotel, skip the line tickets to Poznanski Palace, traditional Polish lunch and all transports. You will explore the trade route, old town, factories listening to the interesting stories about the city.
A train trip from Warsaw to Lodz – There is a unique day tour by train from Warsaw to Lodz, which includes your train tickets, English guide, pickup from your hotel, and covers all the important attractions in the city.
10. Enjoy the Old City of Lublin
One of the largest cities in East Poland, Lublin is a great city to explore as a day trip from Warsaw. Unlike Warsaw, Lublin has survived the darkest periods in Polish history, which means more of enriching original historical monuments and sights.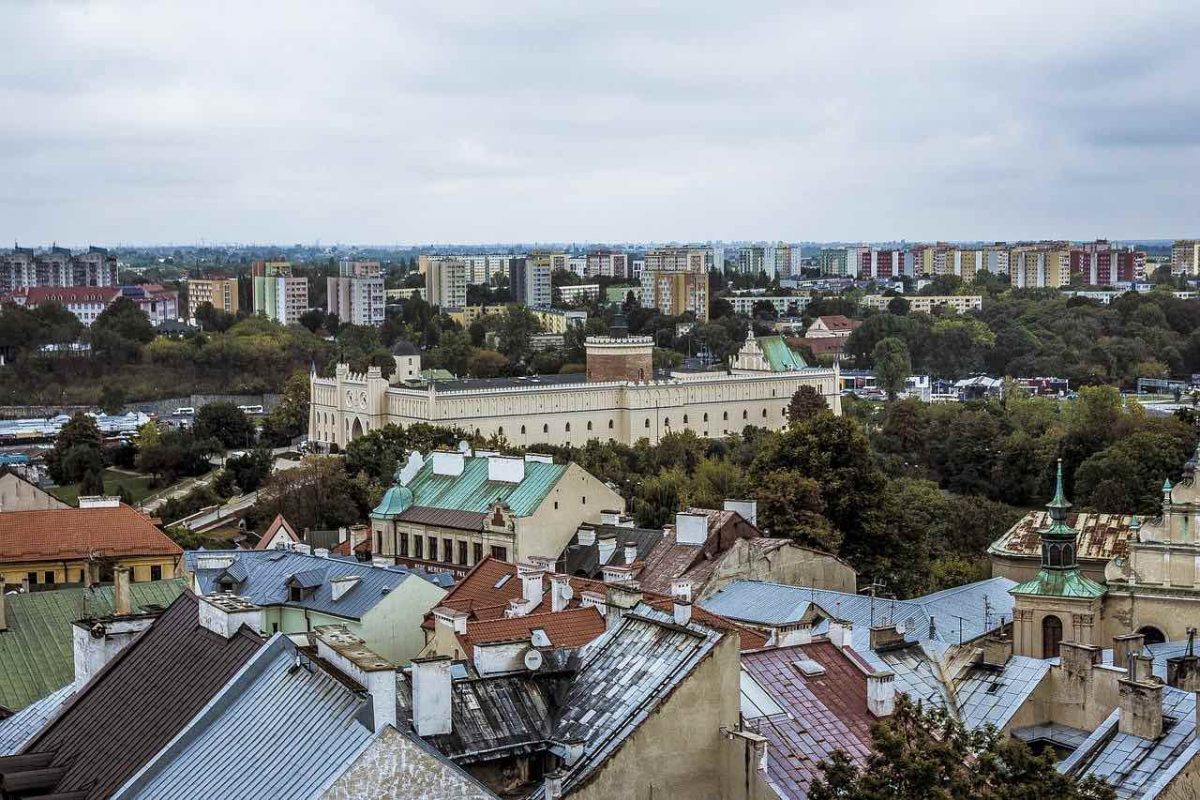 Some of the places to visit in Lublin are the areas around the main street Przedmiecie consisting of many cool things, Lublin Castle, and Zamoyski Palace close to Lublin in Kozlowski.
How to reach Lublin: Train is the best way to reach Lublin. There are direct trains from Warsaw central to Lublin and takes between 2.5 to 3 hours depending on the train. You can go a day before to Warsaw station and get your train tickets directly for the next day. You can also go by bus from Warsaw to Lublin, which can be booked online.
If you are looking for a guided tour, I'd suggest this combo tour of Lublin Old town and Majdanek camp(see below). This tour is best to see the town in a short time.
11.
Pay a visit to Majdanek Death Camp
Located on the outskirts of Lublin, Majdanek is one of the remaining-Nazi concentration camps, which is now a state museum. There are over 70 buildings which once housed seven gas chambers and two torture rooms.
These buildings depict the horrors of the survivors and are an alternative to Auschwitz for travelers interesting in the dark past. It is not recommended to visit with kids. Also, make sure to respect what happened here as it is a memorial site for families of victims that visit Majdanek.
Majdanek state museum timings: 9 AM to 6 PM(summer); 9 AM to 4 PM(winter).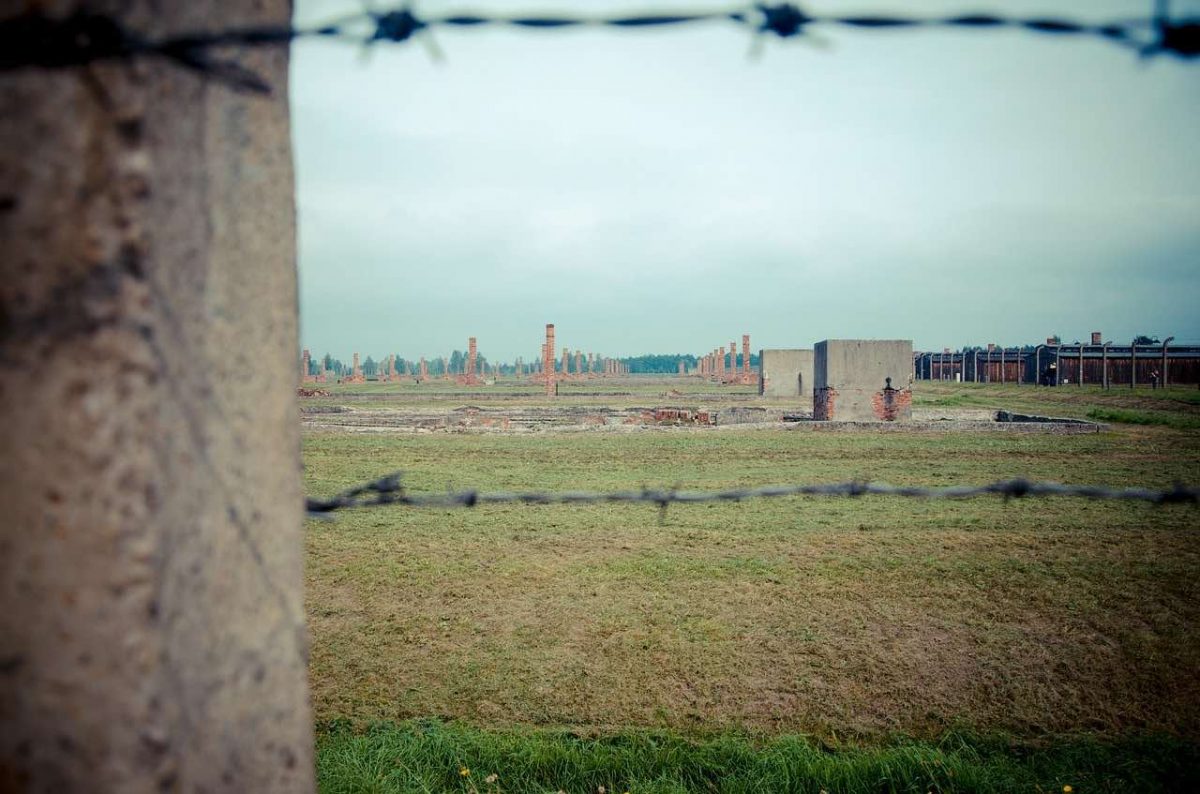 How to reach Majdanek from Warsaw
Buses: You can take a bus from Warsaw central to Dw. Zachodni 02. There are buses every 5 minutes. Change there to get a bus to Lublin. It takes about 2.5 hours to get to Lublin. From there you can take a cab to Majdanek for about €25.
Train: You can take a train from Warszawa Centralna to Lublin, which takes about 3 hours. From Lublin station, take another train to Niedrzwica, which is the nearest station to Majdanek. From Niedrzwica, you can reach Majdanek by taxi, which is just 3km away. The entire journey should cost you from €25 to €30.
Recommended guided tours to Majdanek from Warsaw
If you are looking for guided tours, the best one is the combo Majdanek Concentration Camp & Lublin Guided Day Tour. It includes hotel pickup, lunch in a milk bar with traditional Polish cuisine, all entry fees, and covers the best highlights of Lublin and Majdanek.
If you only want to do Majdanek as one of your day trips from Warsaw, check this tour.
There is also the option of a private tour as well. Both include hotel pickup, skip the line tickets and traditional Polish lunch.
12. Check out the Communist-era Palace at Kozlowka
Also located close to Lublin is Kozlowka, which is known for the Zamoyski Palace. It is one of the important monuments from the Polish-Lithuanian Commonwealth era. A beautiful garden in front of the Palace is the show-stealer, but there are some more of them around as well.
You can check out the halls within the Palace, royal stables as well as these gardens on your visit to Kozlowka.
How to reach: You can take a train from Warszawa Centralna to Lubartow, the nearest station. From there the Palace is about 11km. You can take a cab from Lubartow.
Recommended guided tour:
There is and excellent combo tour from Warsaw that covers Kozlowka, Lublin and Majdanek – worth your money and time to see all in a single day. Book the tour here.
Editor's note: 35 Unusual Things to do in Warsaw(Quirky side of the capital)
13.
Visit Poland's Oldest National Park Bialowieza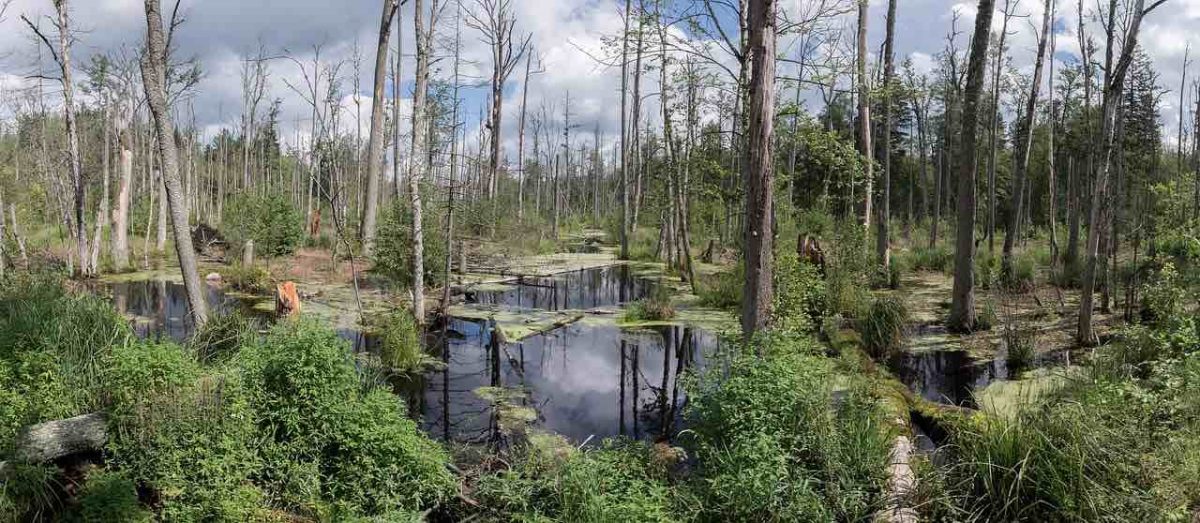 Bialowieza National Park is not only the country's oldest but also a UNESCO-listed site. If you are a nature lover, then it should be one of your day trips from Warsaw. It is home to rare European wild bison, deers, antelopes, hundreds of species of birds and plant life.
Birdwatching is one of the popular activities to do in the park. You need to take a guide to get access to the selected reserve areas.
How to get to Bialowieza: There is no direct transport option from Warsaw to Bialowieza except for the cab. If you are taking a train, then take a train Warszawa Centralna to Siedlce, and another to Hajnowka.
From Hajnowka, you can reach the park by cab. The entire journey would take about 4.5 to 5 hours and cost up to €30.
Guided tour:
If you want to avoid the hassles of arranging transport on your own, you can book this Full-Day Bialowieza National Park Tour, which takes care of commuting, your entry ticket, pickup from your hotel, and, delicious traditional Polish lunch.
More Day Trips From Warsaw
14. Head to Treblinka, Europe's Biggest Nazi Camp
One of the many destinations of Poland with a dark history lies an hour away from the capital city. Treblinka, a small town, is home to former Nazi concentration death camp, which was the largest in Europe.
Not one of the pleasant day trips from Warsaw, but worth checking out if you plan on visiting any of these Nazi camps in Poland.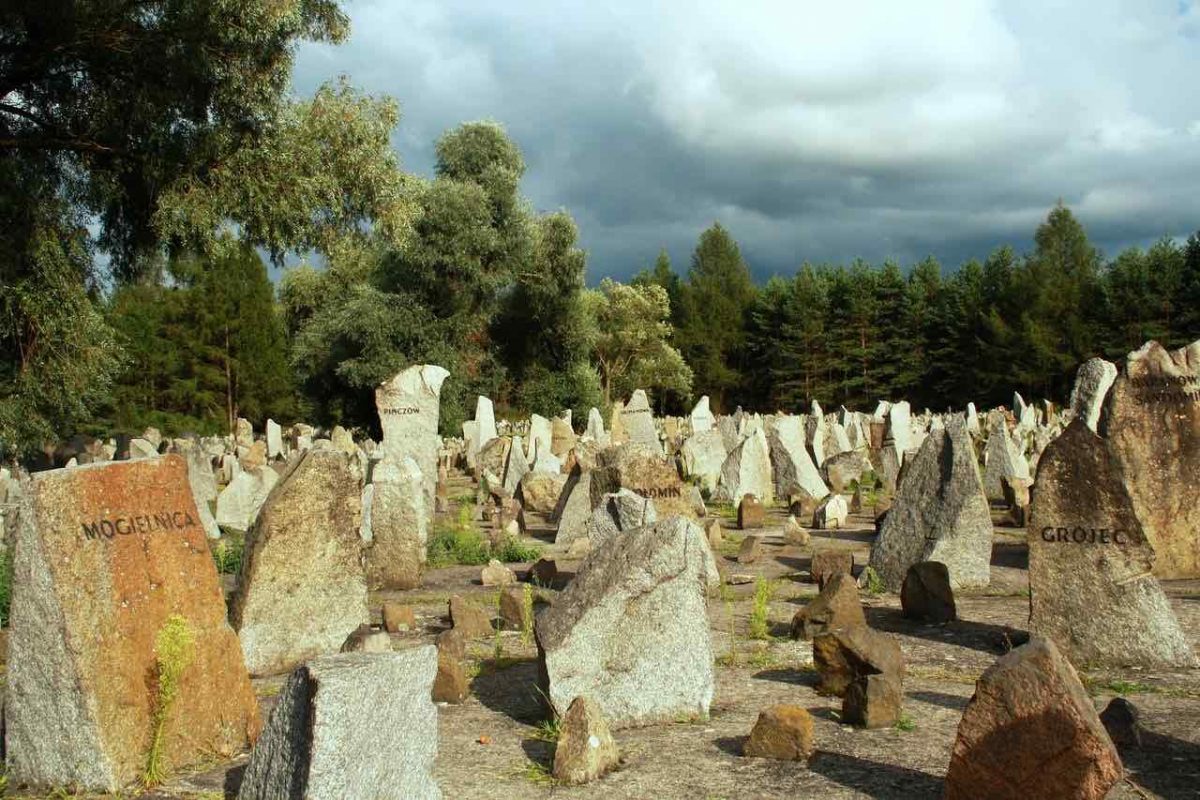 The entry is free, and you can get an audio guide for 12 Euros.
How to get there: Take a train from Warszawa Wschodnia to Malkinia, the nearest station. From there, you can easily reach Treblinka by cab, which is 4km away. Alternatively, you can also take a train from Warszawa Wileńska to Prostyń and get a taxi to Treblinka.
Recommended guided trips to Treblinka
If you are looking for excellent guided tours, I'd recommend this Treblinka Concentration Camp Tour with Hotel Pickup that starts from Warsaw. It covers pickup and drop, and also the entry fees.
There is also a private tour with tickets and pick up from Warsaw. Both can be easily booked online, and you can cancel if need be without any charges up to 24 hours of the start of the trip.
15.
Visit Wolfs Lair
The Wolfs Lair was the east front military headquarters of Adolf Hitler during WWII, where he lived for four years from 1940 to 1944. If you are interested in war history, you will love planning one of your day trips from Warsaw to Wolfs Lair.
The remains of this fortress, along with documentaries, photographs and details of the operations during the war are exhibited for travelers.
How to reach: It takes about 5 to 6 hours if you intend to travel by train. It would be best if you took a Train from Warszawa Centralna to Ketrzyn, and then a cab from there, which takes about 20 minutes.
The best way to reach from Warsaw is to take a taxi, as it takes about 3hours. The cost of a taxi ride would be around € 45 to € 55.
If you want to enjoy a comfortable trip, then I would suggest going for this Private tour of the Wolf's Lair. It can be booked online, and mobile voucher can be shown offline. This 10-hour tour includes pickup and drops off to your hotel, skip the line tickets, water, and guided tour of the Wolfs Lair.
16. Explore the neighbourhood of Kazimierz Dolny
Probably the most unique and vibrant of all the day trips from Warsaw is Kazimierz Dolny, an artistic neighbourhood located on the banks of the Vistula river. It is known for the renaissance architecture in the historic old town, which also consists of the medieval market square.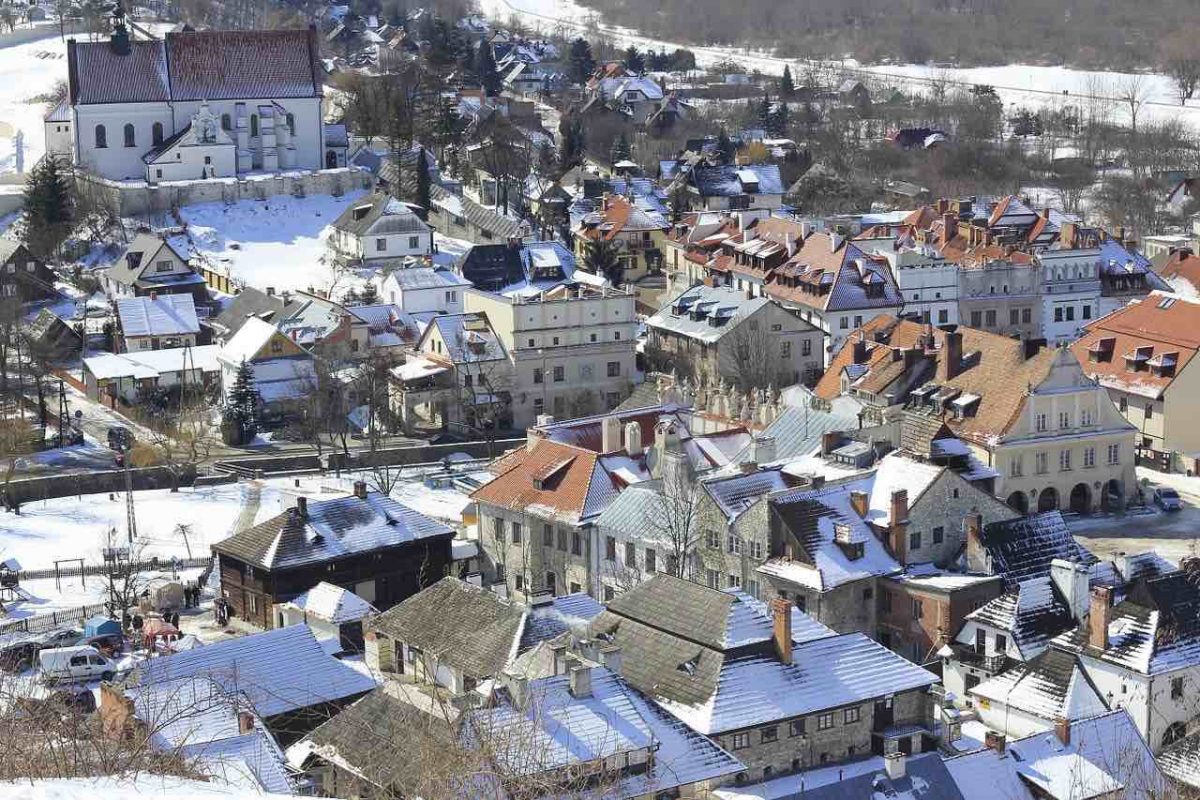 Also, check out the beautiful ancient castle and the Three Crosses Hill, from where you can get magnificent views of the landscapes. If you are into arts, you will love those folk artist shops lined up closed to the old town.
How to reach Kazimierz: The best way to get to Kazimierz from Warsaw is to take a taxi, which will take about 2 hours and costs around € 110 to € 150.
If you want a cheaper option, take a train from Warsaw central to Pulawy Miasto(1.5 hours), and then take a bus from Żyrzyńska – Nadleśnictwo to Kazimierz Dolny, which will take another 45 minutes.
As for tours, I would recommend Kazimierz Dolny Art Town Full-Day Private Tour, which includes pick up and guided tour. The tour lasts for about 10 hours.
There is another excellent combo guided tour which covers Kazimierz Dolny, Majdanek camp, Lublin and Kozlowka. This tour works best if you want to make the most of your time and money.
It involves skipping the line tickets, guides in multiple languages, and easy to book. You can check the detailed itinerary and reviews here.
Day trips from Warsaw to enjoy nature
17.
Hike, Cycle or Run in Bolimów Landscape Park
Consisting of five nature reserves, Bolimów Landscape Park is one of the recommended day trips from Warsaw, especially if you love nature and parks. You will find a lot of hikers, runners, cyclists here, and attracts locals during the summer.
You can spot Polish wildlife including deer, foxes and many birds. There is also one of the Jewish Ghettos that was constructed outside the town close to Bolimów.
How to reach: The cheapest way to enter is to take a train from Warszawa Centralna to Skierniewice, the nearest station, and then take a cab to the park, which is 10 minutes away.
The total journey should take less than an hour and cost around €20 to €30.
18.
Admire the Polish Countryside at Sierpc
Want to spend a day feeling like it's the 19th century? Then make your way to Sierpc, an idyllic village located about 3 hours away from Warsaw. It is a perfect candidate for Warsaw day trip to go off the beaten path in the country.
You will see the settlements unique to this village, like the wooden chapel, windmill, blacksmith's shop, and different local food.
There is a museum dedicated to the 18th-century artefacts, where you can get a glimpse of the Masovian region. Summer is the best time to plan a trip to Sierpc as there are a lot of activities offered by the museum for its visitors.
Here, you'll be able to visit a blacksmith's workshop, a wooden chapel and windmill, try local food, and learn more about Masovian customs.
Museum timings: 9 AM to 3 PM(Oct to March); 10 AM to 5 PM(summer).
Entry fees: 13 PLN.
How to reach: Buses and trains are the best options to reach Sierpc. Take a train from Warszawa Centralna to Nowy Dwór Mazowiecki, and change the train to Sierpc here. Buses leave from Dw. Zachodni 02 to Sierpc.
19. Swim at Zegrze Lake
Wondering where locals picnic in summer? Head to Zegrze Lake to find them. This artificial lake has plenty to offer and is an excellent option for taking a day trip from Warsaw.
You can go swimming, sail, rent out kayaks, hike in the nearby forests, walk in the nearby village of Zegrze or visit the historic Radziwiłł Palace.
How to reach: The easiest way to reach Zegrze Lake is taking a train from Warszawa Centralna to Legionowo, the nearest station and opting for a taxi to the lake from there. The journey takes less than an hour and costs around €20 to €30.
20. Spend a day at UNESCO listed Kampinos National Park
For starters, the beautiful Kampinos National Park is located just 40 minutes away from Warsaw. This massive reserve area is a highly recommended day trip option if you like hiking, animals, and enjoy outdoor activities in general.
You can spend time watching wildlife, taking hikes in the trails and visiting many museums.
For tourists, cycling, skiing, walking and horse riding trails are available. Depending on the season that you are arriving, you can plan your activities.
How to reach: The best way to get to the park from Warsaw is to first take a train from Warszawa Centralna to Nowy Dwor Mazowiecki, the nearest station, and then take a taxi for about 30 minutes. The total journey should take about an hour costing around €20 to €25.
Check out the Rugged Medieval Czersk Castle
Czersk Castle is the formal residence of the dukes of the Masovian region and is one of the remaining gothic castles in Poland. Located about 35km from the city centre, it is an excellent addition to your list of Warsaw day trips.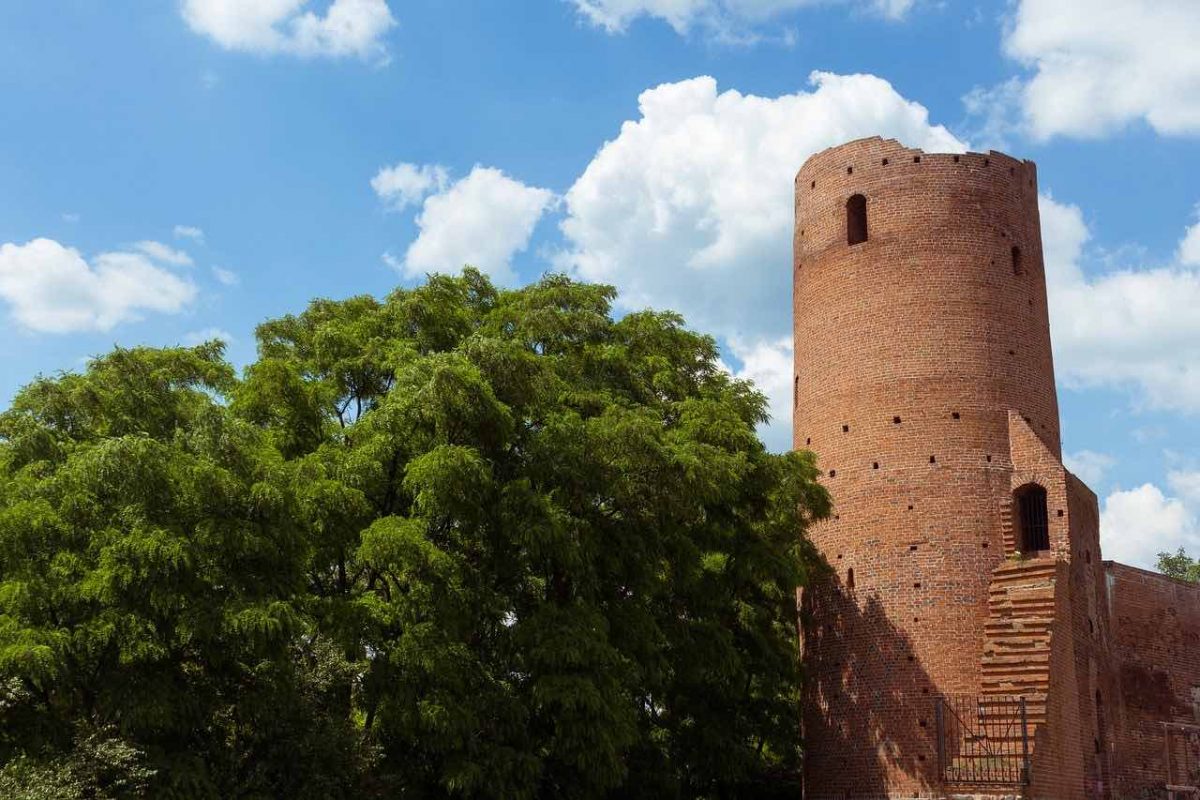 This 15th-century castle is very well maintained and takes in you back in time through medieval dance performances, archery, sword fighting and more. Yes, exploring Czersk Castle is more than just appreciating history and architecture. To check their periodic activities, head to their website to plan.
How to reach: The only way to reach Czersk Castle is by renting a cab. It costs about €35 to €50.
Czersk Castle timings: 8 AM to 8 PM(Summer); 8 AM to 3 PM(Oct to March)
Entry fees: 8 PLN
MORE POLAND POSTS TO CHECK OUT
TOP TRAVEL TIPS & RESOURCES
Below is the list of the travel resources you can use to organize your travel – from flights to insurance and everything. These are the resources I use myself, which is why I recommend you for a hassle-free travel planning experience and fantastic trips.
Booking Flights
: To score flight deals, search on
Jet Radar
, Kiwi,
or
12go.Asia
(for Asia planning). Book and fly mid-week, taking red-eyes flights or those in the early mornings for better deals and lower prices. Avoid check-in bags on a budget airline.
Booking Trains:
The best websites for booking trains anywhere in Europe are
Rail Europe
and
TrainLine
. Both are easy to manage online and track your journeys.
Booking Cars:
For the best prices and easy handling of renting a car for road trips and day trips, I'd recommend
Discover Cars
or
Rental Cars,
available throughout the world.
Accommodations:
I typically use
HotelsCombined
or
Booking.com
to book hotels. There are special getaway deals with amazing discounts(over 50%!) for this year on Booking.com, and you can find them
here
.
I use
Hostelworld
and
Agoda
to book hostels as the deposit is low, easy change/cancellation is available and reviews are excellent on both. Depending on the destination, I love staying in
VRBOs/homestays
.
Travel Insurance:
No matter whether it is a short trip or longer trips abroad, I strongly recommend buying travel insurance for international trips. I recommend either
World Nomads
or
SafetyWing
for international travel insurance.
Tours:
Being a solo traveler, one of the best ways to optimize my time, budget, and super importantly, meet amazing people from all over the world is by joining tours, especially food tours, walking tours, day trips, culture, and history tours.
You will get a local's perspective, the best opportunities to experience places and people closely. I book using
GetYourGuide
,
Klook
,
Viator,
and
Voyagin.
PIN DAY TRIPS FROM WARSAW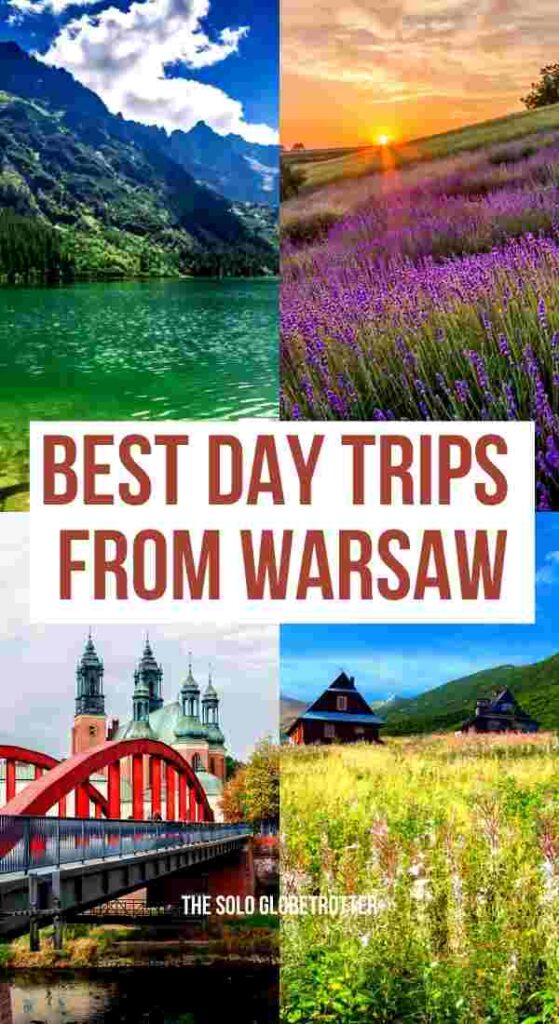 Note: This post contains affiliate links, and if you make any purchase, I would get a small sum without any extra cost to you.
Connect with me on Facebook, Twitter, and Instagram for travel stories.
Subscribe to My Blog Posts for Travel Inspiration, Tips, Travel Guides & Stories. No Spam!