One of the main advantages of being in the United States, as I keep telling everyone, is the possibility of road trips. Sure, we can get on road trips across anywhere in the world, but for tons of thousands of wanderlust-struck souls, road tripping in the US is a dream come true. In this post, I share a few tips about a road trip, including Car checklist before road trip – What to expect while planning road-tripping, primary car care, and more.
I have had the privilege to explore my backyard in California so far, but this year, I plan to get beyond to venture further to cover towns, national parks, and villages. I am eager to go off the beaten path in the US mainly, to exclude main cities and check out the hidden gems.
If you are into road trips or want to go on one but don't know where to start, don't worry. This post will help you understand a few car basics and some important things to know before going on a road trip!
CHECKLIST FOR ROAD TRIP
Here are things that should be a part of your checklist for road trips, whether you are traveling alone or plan them with your friends and family.
Get your maps ready
Although it goes without saying, maps are the center of attention while planning a road trip, but despite this fact, we are all guilty of overlooking checking the maps once or twice. If you are a spontaneous traveler like me, you probably switch roads on an impulse, intending to take detours often or changing lanes just because!
I am guilty of doing this all the time. It may not be real fun to be out of track and lost! Car GPS may be your savior, but I have learned to rely on offline maps or have the maps downloaded before I begin a road trip over the years.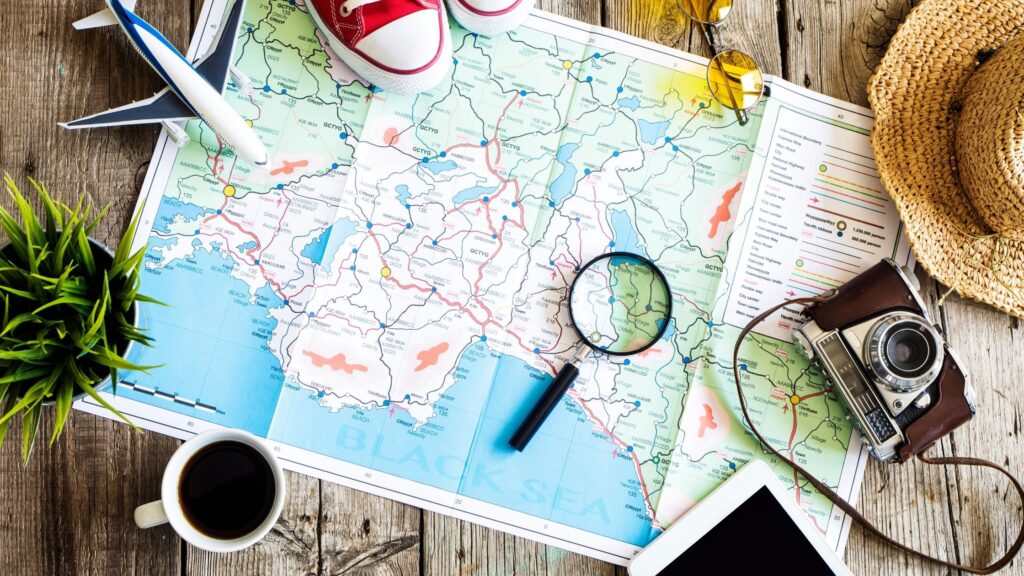 Now there are many available tools to do. One of my favorites is maps. me, which allows us to use maps offline. You can download maps.me on iPhone or your Android phones, check for routes, download them, and there you go – they will be available to you offline anytime.
Keep your entertainment update.
Do you enjoy playing your favorite list of songs on multiple playlists? Or are you more into podcasts and audiobooks? Whatever you choose, get it right because you need some entertainment, especially if you will cover long distances.
You don't want to get bored as well. Plus, there is a lot of fun in singing along as your favorite songs come to life.
Pack your snacks ready
Make sure you have your favorite snacks packed. After all, snacking is one of the favorite things to do on road trips, do you agree?
Make sure you have an emergency kit.
This is one of the essential things to pack – a basic emergency kit with primary medicines for all.
CAR CHECKLIST BEFORE ROAD TRIP
It is best to know if you are aware of a few basic things about your car while planning road trips. You don't have to know the essential things, but if you can learn how to check and fix a few minor inconveniences you may encounter during your trips, that will go a long way. 
Here are some of the tips that you should add to your car checklist before road trips.
Check whether all the lights and signals are working.
Check the headlights, tail lights, and other lights to know their status, and learn how to change bulbs yourself. This is a straightforward task, so you can even keep a spare or two so that you can fix it if any lights stop working.
Check the status of wipers and windshields.
Another easy but essential thing to note is the wipers – are the blades functioning and the fluids fine? What about the windshields?
Check the air pressure in the tires, as well as brakes.
It is best to learn how to change tires, a helpful skill that you may never know how useful it can turn out to be. Perform the checks on brakes, and notice any change or unusual sounds and creeks for possible damage or needed repair.
Check whether the air conditioning is functional.
Air conditioning is probably a life savior if you plan trips during the hot summer months. The main thing to check here is to make sure the various modes work. Nothing kills the mood more than the scorching heat on a trip.
Get your car washed and keep it fresh.
Apart from performing these checks above, the best way to avoid any breakdowns or problems with your car is to get the car serviced and washed just before you have a big road trip coming up.
This way, the service providers will check for any problems that sometimes may be major and help avoid causing further damages or excess costs. You don't even have to go to the shop, but many car care providers will come to your doorstep for service and maintenance. That way, you can be busy packing and getting things ready for the trip while the professionals do their thing.
So that's it about the things to keep in mind and some essential tips about car care for road trips. I am sure there are other things to be added to Car care checklist for road trip, so do share some of them in the comments.

Latest posts by Reshma Narasing
(see all)