Goa is a three letter synonym to the five lettered word party across India! Goa is much more than a quaint town full of awesome beaches and glamorous tourists. It is the perfect amalgamation of Old World Portuguese charm with a native Indian tadka. Studded with enthralling places to see and things to do, it doesn't take too long to fall in love with Goa.
So why not explore the off-beaten path to make the most of this HIGH ON LIFE City!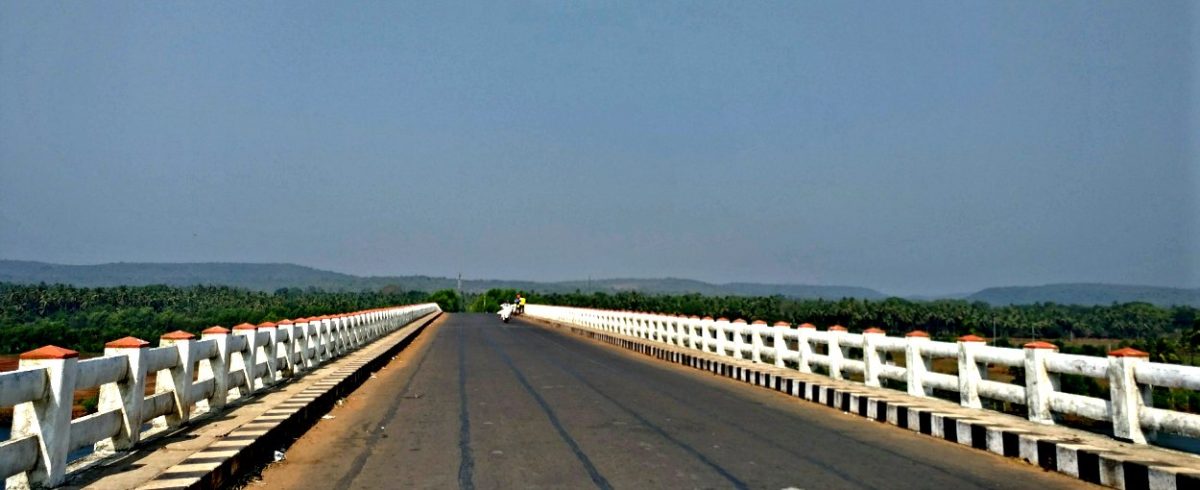 Trace the Rock Carvings at Panasia Mol
The rock carvings at Panasaimol in Goa's Western Ghats baffles archaeologists as much as attracting tourists. Panasia Mol derives its name from the huge jackfruit orchards that were here once. Hundreds of petroglyphs or Rakhanyachi Chitra are carved onto these rocks. They depict the rare flora and fauna found in this region.
A peek into this historical story book can be found at The Rock Art Gallery of Panasia Mol. There is also a model of this at The State Museum of Goa in Panaji.
  Go Green with Eco-Tourism
The Emerald Green Western Ghats are home to many species of birds and animals. Goa has four large wildlife sanctuaries: Dr Salim Ali Bird Sanctuary, Cotigao Wildlife Sanctuary, Bondla Forest and the Bhagwan Mahavir Wildlife Sanctuary. These are studded with multi-storeyed forests, tall trees, rare plants, amazing birds and animals.
  Teleport back into history at Goan forts and caves
Did you know there are a ton of forts in Goa where you can play hide and seek? Visit the Fortress Of Colvale, Tiracol Fort, Reis Magos Fort, Rachol Fort, Corjuem Fort, Chapora Fort, Raj Bhavan, Cabo De Rama Fort, Aguada Fort to marvel at rocks.
The 12th century Rock Cut Caves of Khandepar and Arvalem Caves, also called the 'Pandava Caves' will compel you to go into hibernation. You can also visit Adil Shah's Palace.
  Bask in the magnificence of Dudhsagar falls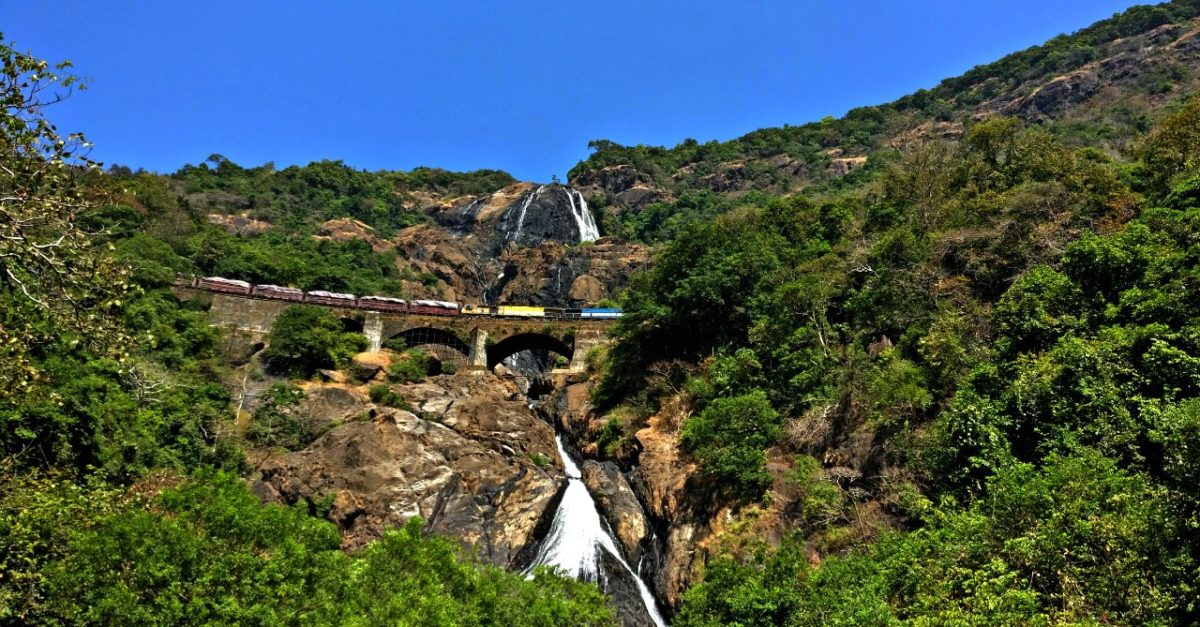 The magnificent Dudhsagar falls on the Goa-Karnataka border are a breathtaking sight. The 600-metre waterfall "Dudhsagar" is aptly named because it appears like a stream of milk from far away. It forms the Mandovi river falling into a picturesque crescent-shaped valley. There are two trains a day that stops at Dudhsagar Station.
Recommended: A Total Guide to Backpacker Beaches in Goa
  Get married in Goa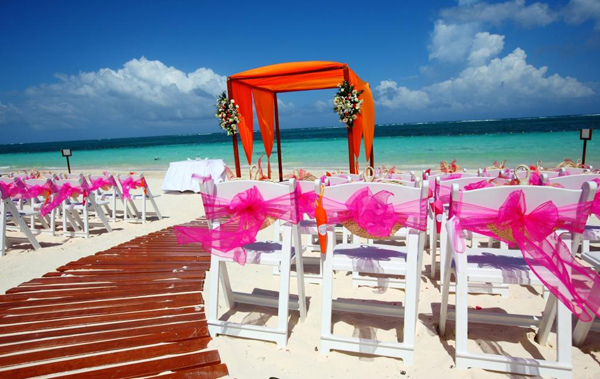 Yes, you heard me right! I said offbeat things to do, remember? Goa is hands-down the most romantic destinations to tie the knot. Ring the wedding bells at any one of the Indo-Portuguese churches or an exotic resort overlooking the beach. Get inspired by the Goan culture, cuisine and celebration.
A dear friend of mine hosted a bomb of a bachelor party last November at Treebo Hotels in Goa, at Treebo Rain Forest Enclave in Arpora. From rolling in the sun on the vast Baga and Arpora beaches to crazy pool parties in the hotel, shopping options close by, free breakfast, good food and great entertainment, his party was the ultimate fiesta.
  Spice up your trip with a dash of green!

Portuguese were awed by Indian spices. That's why they came here anyway! They also did Goa a huge service by planting the widest spread of green chilli plantations. The location and climate contribute to brewing the perfect environment for these plantations. You can find and buy organically grown cinnamon, mace, coconuts, betel nuts and different kinds of spices here.
Head to the Atreya Vedic Farm, Tanshikar Spice Farm, Mangal Plantation, Sahakari Spice, Pascoal Farms and more to check them out. I recently visited Dudhsagar spice plantation and it was a fabulous experience!
  Check out the Heritage Mansions
Colonisation in Goa left behind amazing architectural wonders for all of us to awe at! European architectural style can be found inside and outside these traditional mansions, assemblies and railway stations have since become landmarks of the period. Get a glimpse of the lifestyle of the lavish lifestyle of these European bigwigs.
Also, if you love exploring local markets, then check out the 7 awesome flea markets of Goa!
  Go Museum hopping
Goa has museums that will give you a blast from the past. Check out the wax sculpture of the Last Supper at the Wax World Museum, head to India's one and only Naval Aviation Museum or explore the ancestral way of Goan living at Goa Chitra. Get a glimpse into the cultural heritage and history of Goa at the Christian Art Museum. See the local artefacts at the Three Kings Heritage Village, Pilar Museum, State Archaeology Museum and more.
  Stuff yourself with the flavours of Goa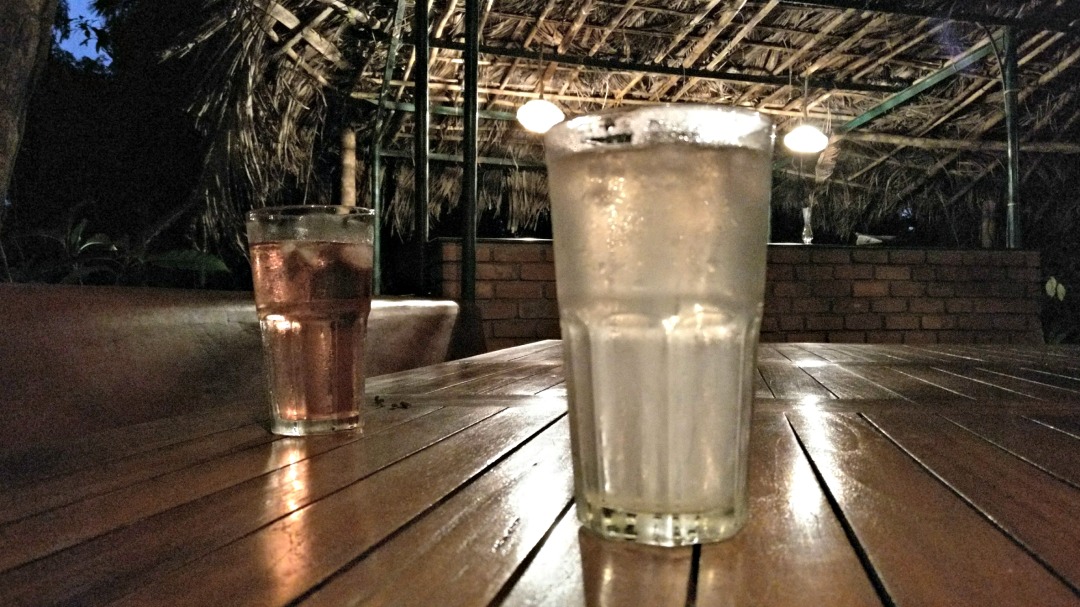 Goan food is what the best life tastes like! Explore Konkani and Portuguese cuisines and dishes made with coconut milk and local spices. Seafood like prawns, lobsters, crabs, clams, mussels and oysters comes in the form of curries, fries, soups and pickles.
Recommended Read: Goa Beyond The Beaches
  Celebrate life in Goa!
Get ready to either fall in love or make great like-minded friends for life, right by the sea. Enjoy a refreshing and fulfilling break from the monotony of the daily grind. Chill at the pubs, casinos, beach shacks or restaurants.
Set your adrenaline glands into ignition with amazing adventure sports. Try hot air ballooning, water sports, zip lining, parasailing, rappelling and more. You can even romance with the dolphins, grit your teeth at crocodiles, go fishing and become one with nature here!
Stock up on some sunscreen, rent a motorbike or a scooter and just revel on the streets or beaches.
Planning your trip to Goa?
Read this: Your Ultimate Travel Guide To Offbeat Goa!
Happy Goa to you!
Share the Love! Pin This Post!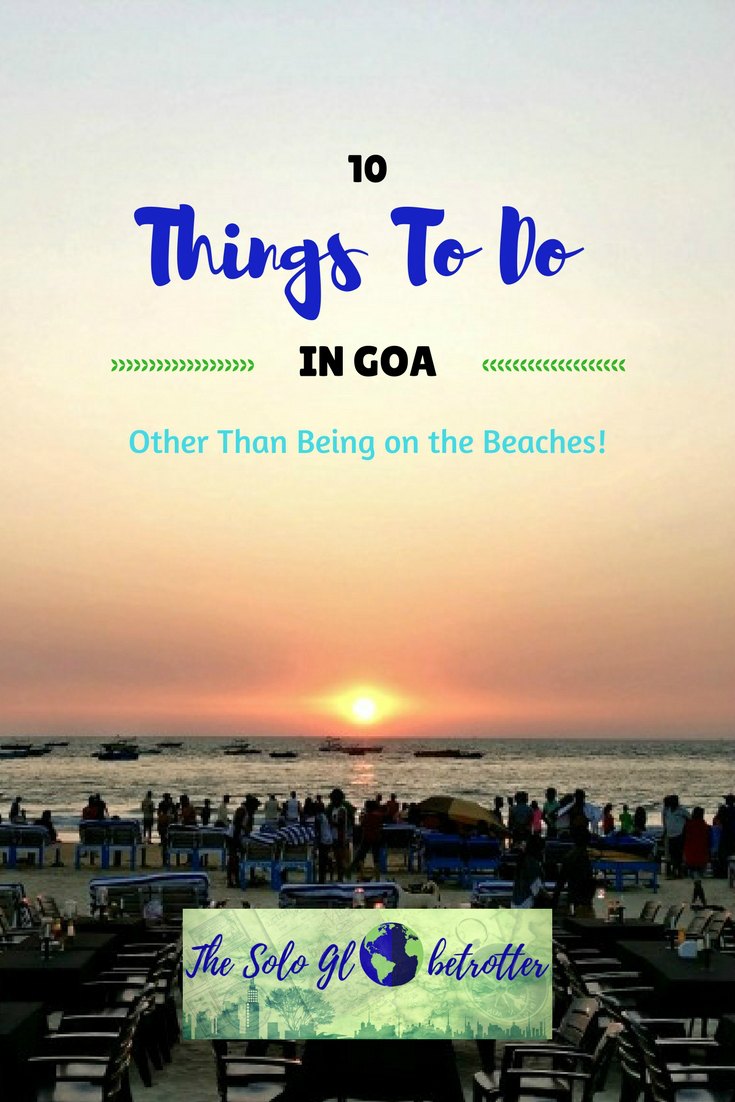 Connect with me on Facebook, Twitter, and Instagram for travel stories
Subscribe to My Blog Posts for Travel Inspiration, Tips, Travel Guides & Stories. No Spam!